The most exclusive Horse-carriage ride of the World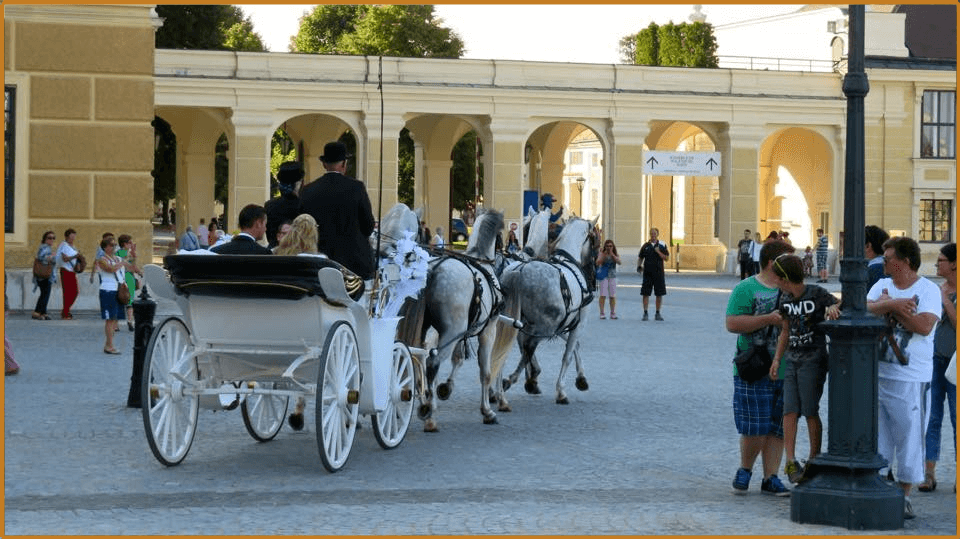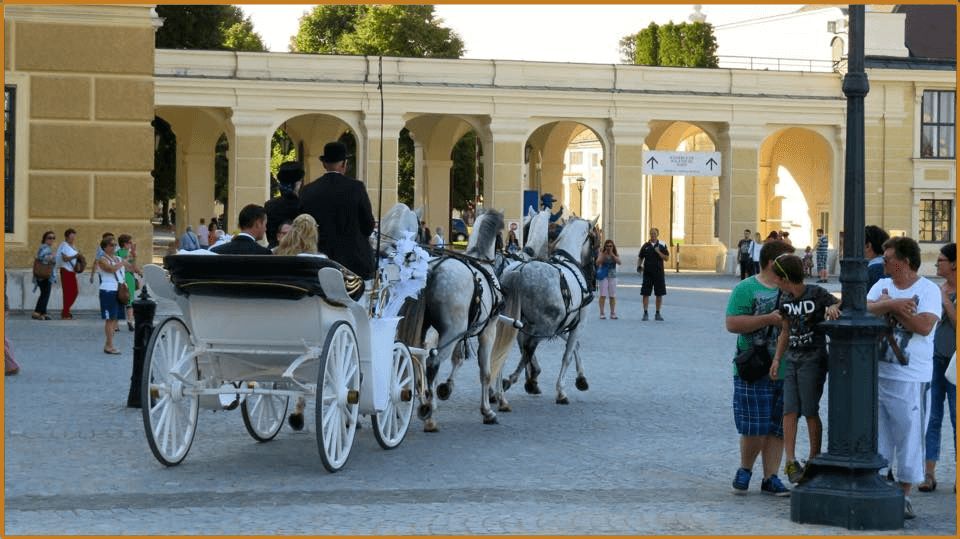 The most exclusive horse-carriage ride in the world leaves no wishes open and offers you luxury in Vienna in a completely new way. For the perfect luxury experience in Vienna enjoy an individual day-program with the 4 team horse-carriage and white lipizzan horses. Of course the journey will be accompanied by a personal Butler who takes care of all your wishes and concerns throughout the ride's duration.
Please feel free in your imagination and creation of our horse-carriage ride with the lipizzan horses, because the luxury in Vienna almost has no limitations. For example we will pick you up with our carriage and the lipizzan horses from your hotel – afterwards our private butler will guide you on your luxury shopping tour through the Vienna City Centre, before you will enjoy our private museum-tour, or ride on to Schönbrunn to do a private photo shoot with the luxury carriage and lipizzan horses in the castle-park…of course our personal butler also provides some delicacies for you in the form of caviar & Champagne, this can be extended on request
Possible program of your special journey
Duration: depending on the request 4-6 hours or more
White 4-team horse-carriage with lipizzan horses
Incl. Hotel Pick Up
Accompanying personal butler-service
Food & drinks, regular: Krug Champagne "Clos du mesnil" & Osietra Caviar 150 g, classic side dishes – extended menu or wine on demand
Tour incl. 1 H photo shoot at the Schlosspark in Schönbrunn
Example: Private museum-tour in the art or natural history museum
Optional shopping in the luxury quarter "Goldenes Quartier"
Prices are individual and depending on the request.
Minimum Price € 15.000,00
Please note that all your wishes and concerns can be considered. Your program is not linked to the points we have listed in this description.
Confidential inquiries to: mailto:vip@fiakerzentrale.at