Historical
Am Hof at Vienna: A cab supplies his horses even with water.
Picture date between 1905 and 1914 Author: Emil Mayer (1871-1938)
Vienna and his cabs have a long common tradition. From this attachment one of the best known Viennese songs testifies from 1885. Today journeys with the horse carriages count to the most popular tourist attractions. Cabs, the historical wage carriages, are not to be imagined as not existing in the townscape of Vienna and present the picturesque scenery of Vienna from a special perspective to the guests and visitors all year round.
Many horse carriages are more than 100 years old and offer an attractive possibility to admire the numerous places of interest. Enjoy the incomparable atmosphere of a cosmopolitan city in a comfortable cab journey and are astonished at the impressive splendour constructions and palaces of the longest last time. With a city tour you discover the enchanting ambience of Vienna and feel in the history of the empire restored.
Stands are on the place Stephans, heroic place, Michaelerplatz and Peter's place as well as in Burgtheater and in Albertina behind the Viennese state opera. The prices of round trips of different length are settled by the city of Vienna.
Since 1984 there are with the Viennese cabs also female coachmen. Since 1998 a special check, the driving service check is in Vienna inevitably to be allowed to steer a cab. Within the scope of this check are also required grounding about the most important Viennese places of interest., Among the rest, the traditional clothing of the cab drivers regulates. The factory regulations for cab and horse hired car enterprise.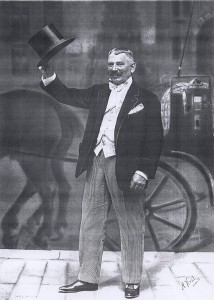 The cab monument of Josef Engelhart on the Viennese cab place in 1030 Vienna.
When during the sixty-year-old's years the renovation was carried out all around Hainburgerstrasse, was clear that there will be there once the cab place. For this location a monument should be created because the bronze figure coming in 1937 from Josef Engelhart had landed Vienna, lane Veronika 12, in the meantime, in the court of the "cab museum" in 1170. As an Engelharts model for the cab is valid Josef Schmutz who was called in general "Schuaster Fraunz".